Location and Routes
Race Registration and Packet Pickup Location

The race headquarters is Inside-Out Sports located at 2002 Grisdale Lane in Cary. The race starts and finishes on Rainbrook Drive across Cary Parkway about 1/4 mile from the store.

Parking
All parking will take place in the designated areas within the shopping center. Please be sure to not park in locations that say no parking. Here is a (MAP).

Getting to the Event Start
The most direct route to the event start from Inside-Out Sports is walking across the parking lot and using the stairs near Ojai up to the sidewalk on James Jackson Avenue. The sidewalk will take you to the crossing at Cary Parkway that will be controlled with a police officer.
Those with wheelchairs or strollers
should follow the sidewalk behind Inside-Out Sports (on Grisdale Lane) to access James Jackson Avenue while avoiding the stairs out of the parking lot.
The map below shows the route from Inside-Out Sports to the event start/finish. The red is the route with stairs. The yellow shows the wheelchair/stroller accessible variation of the route.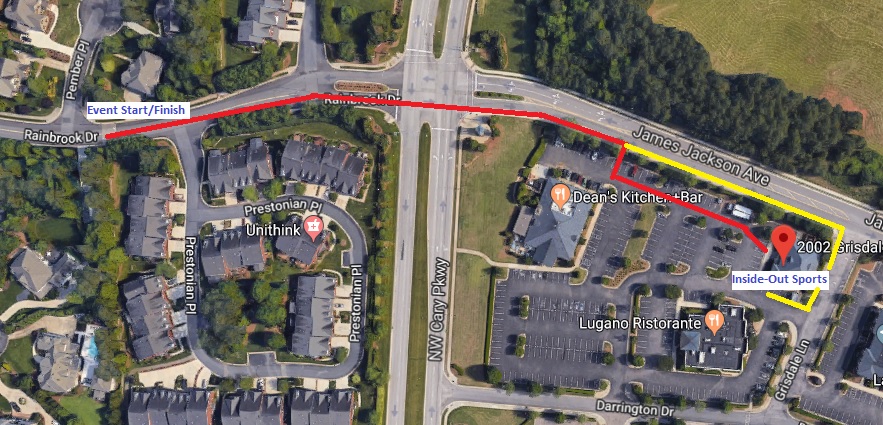 The Event Routes

View the official 8K certified course here.
Route maps and information:
8K Main Event:

​1 Mile Fun Run: